Print this page
Gondola Serenade Private Tour Featured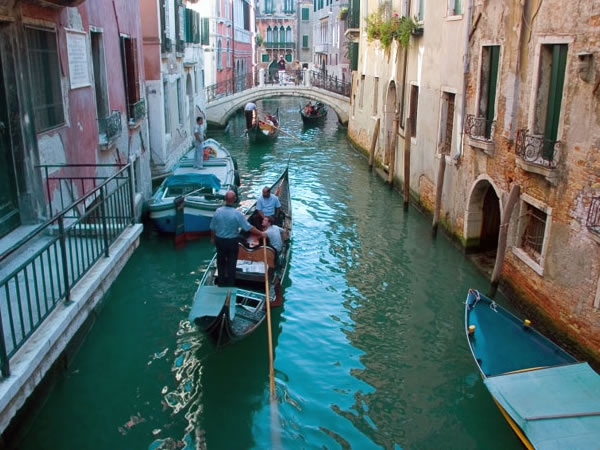 The exclusivity of a Private Serenade Tour for a special occasion! Our Serenade Tour is a classic must-do tour for couple and groups of any size, combining the special atmosphere of a sightseeing, traditional music and the exclusivity of a tailored tour.
A 30-minutes Gondola ride especially for your group along the canals of Venice with traditional music and songs as you glide along the Canals of enchanting Venice.
With music filling the air and the wonderful Baroque buildings reflected in the waters, a Gondola ride is truly the best way to experience the magical city of Venice.
Scheduling: Daily
Duration: 30 minutes
Start time:
Between 09:00 and 22:00 hours; Starting time can be selected by Customer
Meeting Point: Tour departs from "Campo Santa Maria del Giglio" in front of hotel Gritti - Please arrive the meeting point 15 minutes before starting time
Ending Point: Same than departure
Itinerary
The meeting point for your Venice Gondola ride is Campo Santa Maria del Giglio, a guide will accompany you to board your Gondola nearby.
Board the distinctive Gondola and cruise along some of Venice's backstreets as well as the Grand Canal.
The Grand Canal has been called 'the finest street in the world". As your gondolier wearing the traditional costume rows the gondola, you will see a boulevard of baroque palazzo dating from the 12th to the 18th century. Some of the major highlights that you will pass by are Santa Maria della Salute curch, Teatro la Fenice, Accademia bridge, Peggy Guggenheim, Mozart's home and more.
During the Gondola ride, a singer will board one of the boats and croon traditional Venetian numbers as you drift on the canal.
Your gondola ride ends at the starting point.
Inclusions
30 minutes gondola ride accompanied by live music
Exclusions
Meals & drinks
Hotel pick up & drop off

Tours will not operate in the event of bad weather, high tide or Gondolier's strike. Your tour will either be-rearranged or a full refund offered.
Free for children under 2 years of age, if they're in the arms of their parents (Children should not occupy a seat in the gondola).
This tour is Private, your Gondola will not be shared with other guests; there can be up to 4-6 people per gondola. Seats will be allocated by the gondolier in order to balance the load on Gondola.
The tour group "Gondola Serenade" includes a couple of musicians (a singer + a musician) that will be boarded in one of the gondolas to perform throughout the trip, there is not a couple of musicians on each gondola; to permit all participants to listen the serenade, the musicians will board on a gondola in the centre of the row. Generally, Gondoliers do not provide commentary.
This tour is not recommended to wheelchair users or people with walking disabilities.