Print this page
Hidden Venice, Walking Tour Featured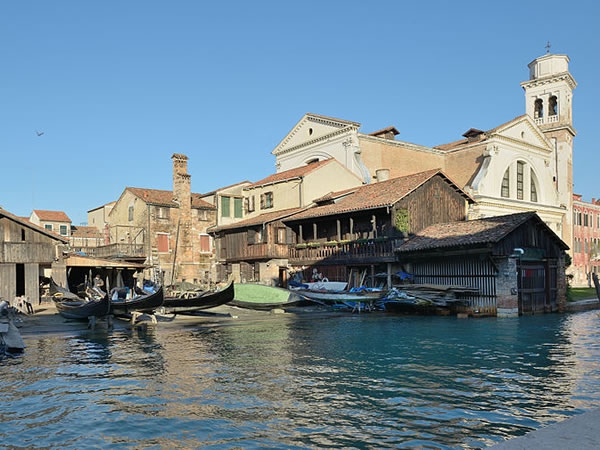 If you want to enjoy Venice in a different and a specially-made way, choose the Hidden Venice Walking tour!
Scheduling: daily
Duration: 3 hours
Starting time: 09:00-11:00-13-00-15:00
Meeting point: your tourist guide will meet you at the hotel.
Itinerary:

The tour starts at San Trovaso, one of the few surviving gondola workshops and one of the oldest five surviving squeri (boatyards) in Venice. Your private guide will bring you to Zattere.
Zattere are the way the wood is located using timber of the Republic forest. This is the best place where you can taste a delicious ice-cream admiring a fantastic landscape.
The next stop will be San Barnaba square which was known as the home of impoverished Venetian patricians.
Cà Rezzonico Museum is a must-do stop, being one of the most splendid Baroque palace in Venice. It houses high quality frescoes and paintings (there are two Iacopo Tintoretto's works, too).
San Sebastiano Church is a 16th-century one where the artist Veronese painted a lot of part of it. You can not miss seeing one the most beautiful and colourful interior of a Church.
Another masterpiece is San Nicolò dei Mendicoli Church, the oldest church in Venice. it was constructed in the 12th century and has been rebuilt over the centuries. Passing through Carmini Square with its church, you will reach Santa Margherita square. This is one of the largest places in Venice, where people meet together. There are many bars, pubs, pizzerias and it is very crowded both in winter and in the summer.
Close to it, the final stop is San Pantalon square. This two last stops are the best solution to eat cicchetti "little bite" (appetizers, finger food) and drink spritz (the traditional Venetian drink: Prosecco wine, Aperol or Campari and sparkling mineral water.

Languages: Italian, English, French, Spanish, German
Note: comfortable shoes are suggested.
All tours can be modified according to client's preferences and needs.


Book Now!